2017 Holiday Gift Guide
By Sarah Harper on Nov 7, 2017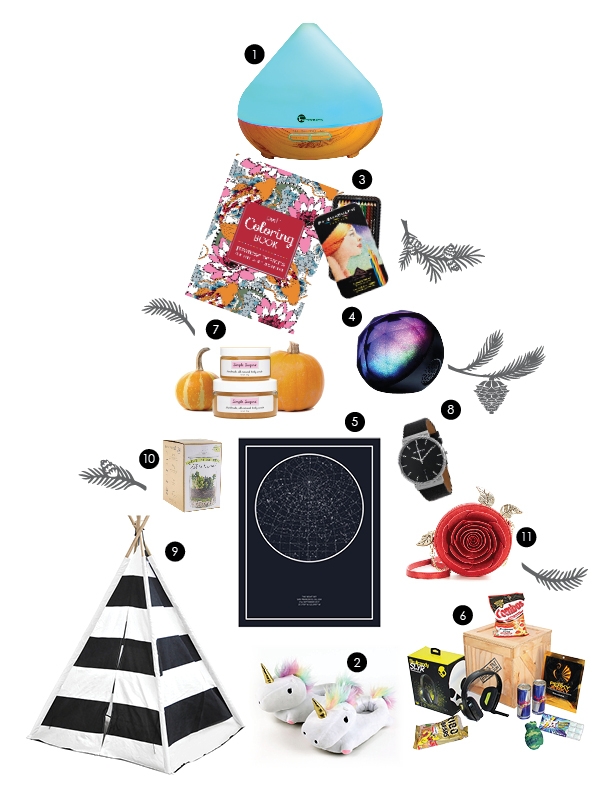 'Twas the night before Christmas, and all through the house, one creature scurried, snagging up last-minute gifts in a hurry. Sound familiar? Get your shopping done early for everyone on your list with our hand-selected gift guide.
1. ESSENTIAL OIL DIFFUSER
Relax, focus or check off everything on your to-do list with the right essential oils.
$23.99, amazon.com
2. UNICORN LIGHT UP SLIPPERS
For the most magical person you know, or the one who needs a little light on the way to the bathroom.
$39.99, smokonow.com
3. COLORING SET
De-stress and reconnect with your creative side.
Book $7.53, amazon.com.
Pencils $21.99, michaels.com
4. Magic Color Ball Bluetooth Speaker
Listen as all of your favorite songs come to life in a rainbow of colors.
$36.99, theapollobox.com
5. NIGHT SKY MAP
Recreate the night you met, got married, had a child and more with The Night Sky print.
Starting at $60, thenightsky.com
6. MAN CRATES
Bragworthy loot crates for the guy in your life, whether he's into whiskey, bacon or poker, there's a crate for him.
Starting at $99, mancrates.com
7. SIMPLE SUGARS
All natural sugar scrub that is safe enough to use on a daily basis. Perfect for dry winter skin.
$14, simplesugars.net
8. SKAGEN WATCHES
Sleek and classic designs with high-quality craftsmanship.
Starting at $110, skagen.com
9. TEEPEE
A perfect place for your little ones to escape and jumpstart their imaginations.
$60, walmart.com
10. TERRARIUM
Make your own terrarium with this easy to use kit that includes a glass container with lid, hydrostones for drainage, green moss and soil mix.
$27, etsy.com, GardenGoodsDirect
11. Handbags
Inspired by her love of handbags and Disney, Danielle Nicole takes handbag crafting to a magical place.
Starting at $50, daniellenicole.com