Keep Cool, Cook Smart!
By Meghan Bailey on Jul 8, 2015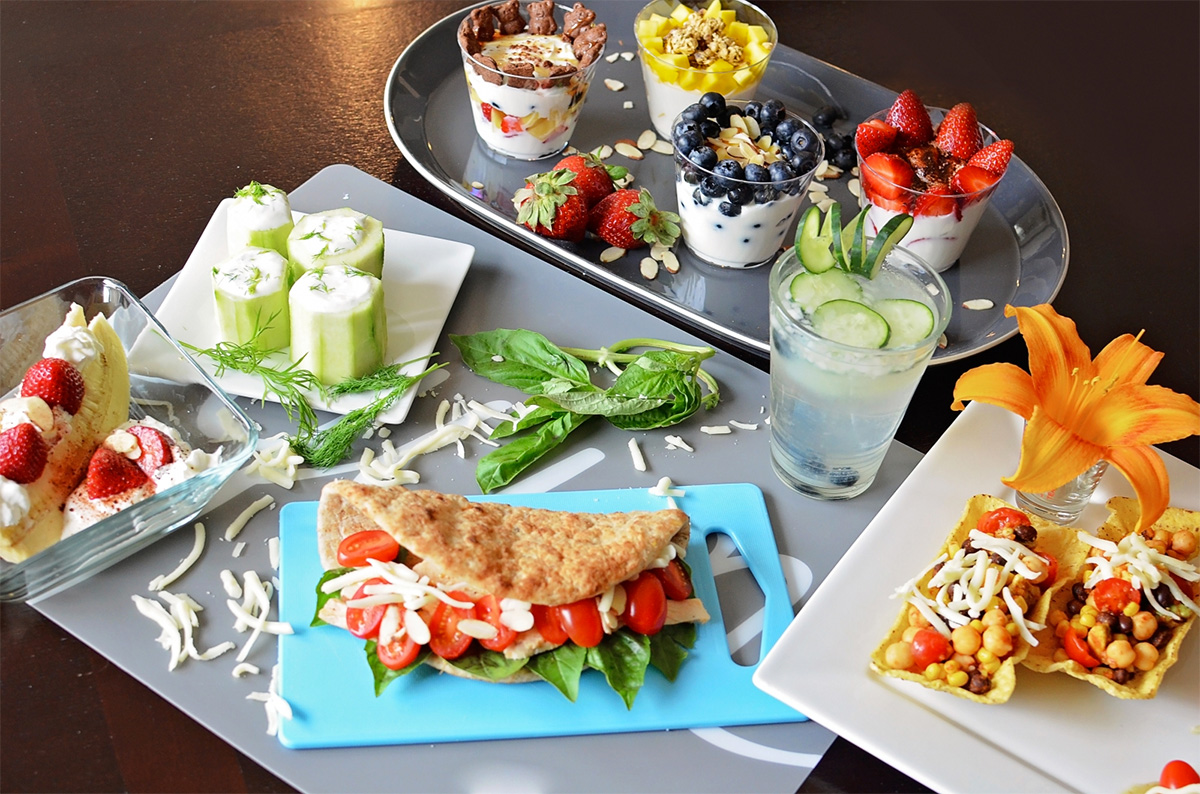 We tested these no-cook recipes to make sure they are full of vibrant flavors and nutritional content, without using your stove, oven, or grill! Get creative with your food this summer, and you'll see that it's easy to keep things healthy!
Tzatziki Cucumber Appetizer
Ingredients:
2 cucumbers
1/2 cup of plain greek yogurt
4 teaspoons of lemon juice
Fresh dill (to taste)
Garlic salt (to taste)
Directions:
Cut the cucumbers into 3-4 inch sections. Using a melonballer or spoon, hollow out the top half of the cucumber. Remove skin of cucumbers. In a separate bowl, mix the greek yogurt with lemon juice. When mixed thoroughly, add garlic salt and dill to taste. When desired flavor is reached, spoon the tzatziki sauce into the hollowed out cucumbers. Makes eight servings.
Southwestern Taco Dip
Ingredients:
1 can of black beans
1 can of garbanzo beans
1 can of corn
1 pint of cherry tomatoes
2 avocados
2 tablespoons of lime juice
1 packet of taco seasoning or chili powder
Mexican cheese blend, salsa, taco shells or chips (optional)
Directions:
In a large bowl, mix garbanzo beans, black beans, and corn. Quarter or half cherry tomatoes and add to bowl. Cut up avocado into small bite sized chunks and add to large bowl. In a separate small bowl, juice the lime and add taco seasoning or chili powder to taste. Stir until well-blended. Add dressing from small bowl to mixture in large bowl. Toss until well distributed. Enjoy in taco shells or with chips! Makes eight servings.
Chicken Caprese Pita
Ingredients:
Pre-cooked, chilled chicken strips
Quart of cherry tomatoes
Small handful of almond shavings
8 leaves of fresh basil
Fresh mozzarella (to taste)
2 pita pockets
Olive oil, salt, pepper (to taste)
Directions:
In a small bowl, quarter or half cherry tomatoes. Cut chicken strips into smaller, bite-sized pieces and add to bowl. Chop basil. Drizzle mixture with olive oil, salt, pepper, and basil to taste. Add almond slices and mozzarella. Mix well to evenly coat with seasoning. Stuff pita pocket with mixture and enjoy! Makes two servings.
Rainbow Parfait
Ingredients:
Fruit selection of your choice (strawberries, mango, blueberries, raspberries, etc.)
2 cups of vanilla greek yogurt
Choice of toppings: almond shavings, granola, teddy grahams, honey
Directions:
First, cut larger fruit such as strawberries and mango into small bite-sized pieces. Then, in a small cup, fill the container a third of the way with yogurt. Layer the next third of the container with fruit. Top the fruit with another layer of yogurt. Finish your creation with more fruit and the toppings of your choice. Makes one serving.
Banana Boat Split
Ingredients:
1 banana
3-4 strawberries
Whipped cream
1/2 cup of vanilla greek yogurt
Almond shavings (optional)
Honey or agave (optional)
Dark chocolate shavings (optional)
Directions:
Unpeel the banana and cut in half lengthwise; place in bowl. On either side of the banana, spoon generous amount of greek yogurt. Add as much whipped cream as you would like! Cut strawberries in quarters and add on top of greek yogurt and whipped cream. Toss on additional toppings and there you have it--a delicious, healthy dessert! Makes one serving.