My Story My Life: Tuff Like Tyce
By Meghan Bailey on Jul 12, 2017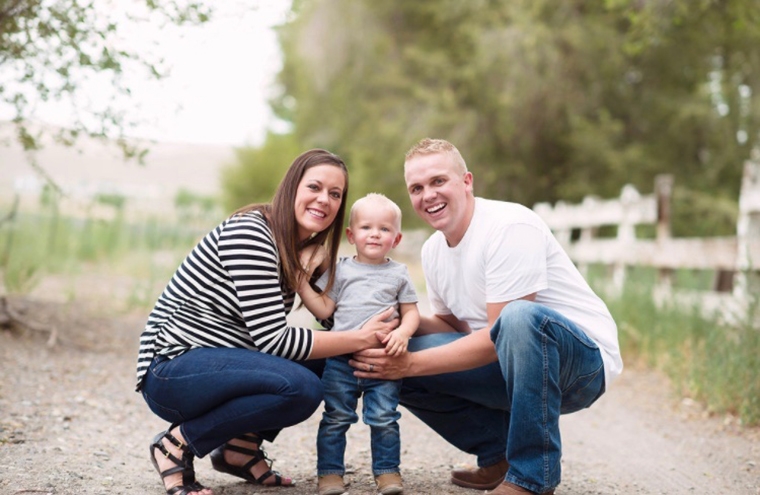 At 13 weeks into treatment, we made the decision that Tyce would undergo surgery to amputate his left leg. Our baby was just barely two years old. As parents, we knew we had no choice but to do everything we could to save our sweet boy's life.
Tyce was very advanced for his age, recalled his mother, Amy Campbell. He would always want to go outside to be pulled around on his plastic four-wheeler, play with his dog Rebel, or do what boys do and play in the dirt. Just like any typical toddler, he loved to watch Mickey Mouse or Paw Patrol, and waited for his dad to come home from work each day. It wasn't until he was getting closer to his second birthday that our world changed forever.
We were visiting family when we noticed that Tyce had a slightly larger calf on his left leg. Tyce didn't seem affected by this, so we tended to it thinking it was swollen because he bumped it somewhere. After a couple of days, the swelling went down, and after we had checked his leg, we felt a knot attached to his calf muscle. There wasn't anything on the right side, so we took Tyce to the pediatrician on July 11, 2015. After the initial appointment with our pediatrician, everything began to piece together quickly, from ultrasounds to MRIs, and we found ourselves sitting in a doctor's office in Oakland, California holding onto Tyce as they told us our little boy had a rare and aggressive form of cancer, Alveolar Rhabdomyosarcoma (ARMS).
You are never ready to hear that your child has cancer, let alone a rare and aggressive cancer. Out of all the childhood cancers, only three percent is ARMS. This type of cancer is found in soft tissue, typically in the head neck, eyes, extremities, urinary system or reproductive organs. Around 350 new cases of Rhabdomyosarcoma are diagnosed each year. In addition to Alveolar, Embryonal is also diagnosed within the Rhabdomyosarcoma cancer family.
It was three weeks between diagnosis and treatment. They were some of the worst weeks. Tyce was so young that he didn't understand what was happening, and we knew because of the aggressiveness of this type of cancer, there could be a good chance it could spread at any moment. When we arrived at Primary Children's Hospital in Salt Lake City, Utah, we began the long road to recovery. The first set of procedures were to place a power port in Tyce so he could start to receive chemotherapy treatments. Tyce would need to complete 43 weeks of chemotherapy, not including any weeks to give his little body a break. His chemotherapy treatments consisted of four different kinds of chemo medicine, all which would have their own set of side effects. Tyce would be admitted to the hospital on numerous occasions because of dehydration, diarrhea, constipation and fevers. We made the decision to put a feeding tube in because the only nutrition he would receive was from his milk. Tyce frequently also needed blood transfusions because he had such low blood count levels. At his lowest point, Tyce had no energy and laid on the bed looking close to giving up, a body of bones and skin. But, miraculously, Tyce, this little guy who was just barely two years old, handled stronger chemo treatments than most children. He was able to withstand the stronger medication and fight off any signs of neuropathy, heart or sight problems.
Even through the pain and struggle, Tyce would smile every day. I was pregnant with his sister, Jaynee, at the time, and he would put his hand on my belly and talk to his little sister. When Tyce was coming up on double digits of his chemo treatments, that is when the doctor told us we would need to remove his left leg. So many emotions rushed through, the first and most important was to do everything possible to make sure my son could have the best quality of life after treatment, and if that meant removing his cancer altogether, that is what we needed to do.
On November 12, 2015, Tyce had his left leg amputated. I remember holding him a little tighter and taking a photo of his two feet in my hands for the last time. My husband, Brad, and I took him home two days after the surgery, Tyce was asleep when we got home, so we put him in his bed. We made it a few steps out of his room before we both broke down emotionally. All we could think about what how we were supposed to explain to Tyce that his leg needed to be taken away. We didn't know how he would react. The unknown was terrifying. Both my husband and I waited by his door; we didn't want him to wake up from his nap, try to get out, and face plant on the floor. But, in real Tuff Like Tyce manner, he took it better than we did. When we told him he would be getting a robotic leg, he was thrilled and wanted to know if that meant he was a superhero. Just as he was healing from his surgery and getting ready for another chemotherapy treatment, I was emotionally drained, and then my water broke. When Jaynee was born, she was exactly what our family needed. She was a pillar of strength, even at just a few days old, we all needed. It gave me a moment to step away and rock her. I knew she wouldn't do anything but give one hundred percent of her love while tears streamed down my cheeks.
Moving toward the later chemo treatments with Tyce, we were hit with another reality. It was cold and flu season, which meant I couldn't take Jaynee with me to the hospital, and Tyce was at a higher risk of contracting an illness. We made it through with just a few additional hospital stays and lucky for us, Tyce didn't have any major setbacks in his treatments.
The day Tyce was able to ring the bell, the 43-week treatments were over, and he could go home without his port was more than anyone could handle. There wasn't a dry eye in the part of the hospital we were in because Tyce has a special kind of strength, one he lets those around him borrow. The American Cancer Society tells us that childhood cancers make up less than 1 percent of all cancers diagnosed each year. About 10,380 children in the United States under the age of 15 will be diagnosed with cancer. Because of significant treatment advances, even the most aggressive forms have a higher chance of survival.
We continue to go to the Primary Children's Hospital every three months for scans and blood work. We also collaborate with a prosthetics doctor to keep making adjustments to his robotic superhero leg. Until we reach the five-year mark, he will not be considered cancer free. For now, Tyce runs, jumps, rides his bike, and is every much the little boy we had before his battle with cancer.
Looking back, throughout the pain of watching him undergo treatment and seeing him get sicker before he could heal, I am so blessed to have had the support system we had. Between the fundraising rallies, special Tyce days where he was able to be a football team captain for the night, basketball adventures where the team gave him a mini hoop, and the many other special days that were created for my son, I wanted to share one takeaway for anyone going through an emotional crisis. Lean on those closest to you. It is okay to let them shoulder some of your burdens, let them cry with you, let them bring you things. Take it one day at a time, and when that is too overwhelming, take it minute by minute. Your focus is on your child, but you should never lose sight of your health and well-being because they need you strong more now than ever.
Follow Tyce - Facebook: Tuff Like Tyce
American Cancer Society - www.Cancer.org